Milo Community School
Principal's Message:
Here's to another awesome year at Milo Community School! We are proud of our school and are excited about experiencing what is possible for learning! I look forward to working alongside the students, staff, parents and community members in creative and exciting ways! "Together we will ensure learning success for all students to develop their unique potential as caring citizens in a changing world." (Palliser Regional Schools).
We desire most of all for students to discover their unique potential as human beings. And we believe parents are partners with us in their child's learning success. We hope our students will love learning, enjoy collaborating with one another and strive to become contributors in our community and hopefully in the world.
In my career thus far teaching K-12, throughout Canada and overseas, as a K-12 administrator, and while working for the government in Alberta Education, I continue to be amazed at the depths and possibilities of learning and how beautiful the journey can be. We will achieve great things together!
Ms. Prud'homme
Vice Principal: Mr. Gerry Tetrault
Milo Community School Teachers (2016-2017)
Grade 1/2/3 - Mrs. Bernie Kirk 
Grade 4/5/6 - Mr. Jared Munton
Grade 7/8/9 - Mr. Gerry Tetrault
Support Staff:
Mrs. Tammy Lahd
Mrs. Frances Thompson
Mrs. Ruth Ann Sherstabetoff
Mrs. Penny Heather
Milo Alphabets Kindergarten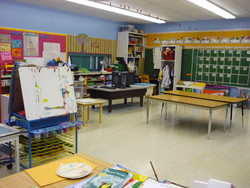 The Milo Alphabets Kindergarten is a privately run Kindergarten and Pre-school program housed in the Milo Community School. The program runs 2 full days per week and students have full access to all school facilities. Please call 403-599-3895 for more information.