Welcome to Milo Community School!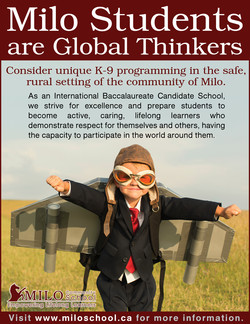 At Milo Community School we promote critical thinking and global citizenship with a family atmosphere. With a vibrant and supportive community around it, Milo's students and teachers enjoy and take pride in their school. We are located in the rolling hills of Southern Alberta on the northeastern edge of Lake McGregor, halfway between Calgary and Lethbridge. 
The village of Milo has a population of approximately 120 residents and is surrounded by a rural population, primarily engaged in grain farming. The Siksika Nation borders the attendance areas to the north.
We are proud to provide many opportunities for our students. In addition to field trips to Calgary for the Pink Shirt Day Hitmen Game, Fort Calgary, and the Children's Festival, we offer many programs and complimentary experiences to our students. In addition to our excellent regular class programming, we have Music and Art specialists who deliver instruction to our students, in addition to offering courses such as drama, cooking, Blackfoot culture, and robotics. In order to challenge our students and foster collaboration and innovation, we have regular STEM (Science, Technology, Engineering, and Math) challenges in our school, Artist in Residency Programs from Evergreen Theatre, Scientists in School, as well as excellent access to sports teams throughout the year.
We look forward to working together to empower our students!
Our Mission: "Empowering Lifelong Learners"
Our Vision: We will strive for excellence and be an engaging, collaborative, and global community; through high expectations, student leadership and family values.